History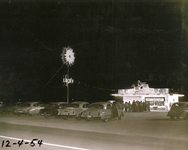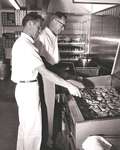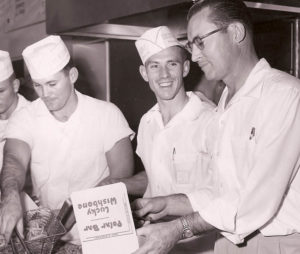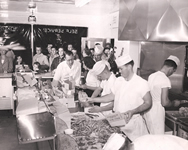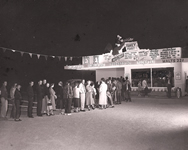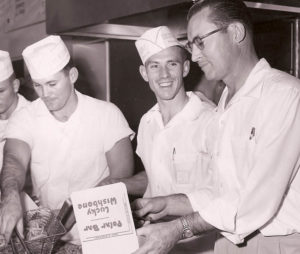 The first Lucky Wishbone opened at 4872 South 6th Avenue on a hot day in July of 1953. Hundreds of Tucsonans waited in long lines well into the night beneath the hue of colorful blinking neon lights, just to get a taste of the wonderful smelling fried chicken. Lucky Wishbone became an instant success and has enjoyed doing business in Tucson for over fifty years.
Lucky Wishbone was the concept of a school teacher turned restaurateur named Derald Fulton. Mr. Fulton moved to Arizona in 1948. He lived in Phoenix briefly before moving to Tucson where he opened a restaurant named the Polar Bar. The Polar Bar was a very happening destination that was open late, featured a large dining room, an extensive menu and even car hops.
As Mr. Fulton studied trends and the needs of his customers he began to think of an establishment that served customers quickly and on the go. In order to do so he created a smaller menu that featured items like fried chicken and shrimp. When the first Lucky Wishbone opened in 1953, it became Tucson's first fast food restaurant.
Shortly thereafter, Mr. Fulton was convinced that Tucson could support more Lucky Wishbones. In his employ, he had three bright, hard working young men that he would later open stores with as his managing partners. Those men are Donald Morris, Clyde Buzzard and John Kinder.
Today there are eight locations in Tucson. Mr. Fulton passed away in October of 2011. Donald Morris passed away in January of 2008 and is dearly missed and lovingly remembered. His son, Mark Morris, owns and operates the stores at 2545 N. Campbell, 3979 N. Oracle, and 3780 W Ina Rd. Suite 1888. Clyde Buzzard still operates his stores at 4701 E. Broadway Blvd and 990 S. Harrison. In 1995, John Kinder passed away he is still missed by his employees and customers. The Jacobsen family currently operates the stores at 5220 S. Nogales Hwy, 2712 E. 22nd Street and 1465 W. Silverlake Rd.
At Lucky Wishbone we truly appreciate the support that Tucson gives us. Due to very loyal customers and extremely dedicated employees, more locations are on the way.